5/5
Deprecated
: trim(): Passing null to parameter #1 ($string) of type string is deprecated in
/home/u_group/preller.us/384thBombGroupWebsite/htdocs/piwigo_384th_gallery/include/template.class.php
on line
911
Deprecated
: trim(): Passing null to parameter #1 ($string) of type string is deprecated in
/home/u_group/preller.us/384thBombGroupWebsite/htdocs/piwigo_384th_gallery/include/template.class.php
on line
911
Deprecated
: trim(): Passing null to parameter #1 ($string) of type string is deprecated in
/home/u_group/preller.us/384thBombGroupWebsite/htdocs/piwigo_384th_gallery/include/template.class.php
on line
911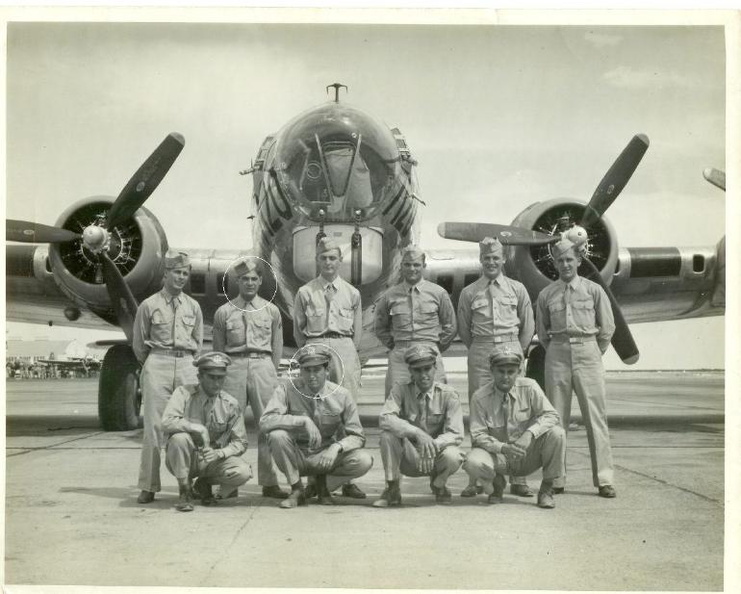 Download Photo
Dale Morris McKinney crew, 544th Bomb Squad.

William C. Murphy (engineer/top turret gunner): back row, far left, probable ID provided by Patty Mayo-Katsion after reviewing newspaper articles and his photo on http://iagenweb.org/boards/cerrogordo/obituaries/index.cgi?review=443059, November 2021. Murphy's wife's address in the article matches his home address on his sortie record.

Albert Richard Macuch (flexible gunner): second row, second from left.

Donald George Springsted (co-pilot): first row second from left.

Other crew members are unidentified.

On the November 16, 1944 mission to Eschweiler, Germany, their aircraft received a direct flak burst. Springstead was pilot on this mission and he, Macuch, and co-pilot Robert C. Barnes rode the plane down. Barnes was KIA. The remainder of the crew bailed out and became POWs, except for engineer William C. Murphy, who was also KIA. Macuch and Springsted were the only two crew members, of the three who rode the plane down, who survived.

Photo contributed by William Liket, 2016.
Description updated by Cindy Farrar Bryan, 2021.
Author

William Liket

Posted on

Dimensions

770*617

File

liket.JPG

Filesize

63 KB

Visits

1091